About the Research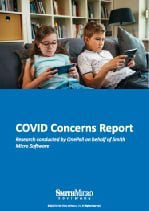 Smith Micro commissioned this research study to gain insight into how the COVID-19 pandemic has affected the views of American parents regarding the social interactions, digital activities, and online safety of their school-aged children.
This study also provided greater understanding on the following topics:
Adoption of and parental sentiment toward family safety technology such as location tracking and parental control software
Challenges related to distance learning and increased digital screen time
Digital parenting concerns
Household responsibilities and chore management
The survey was conducted by OnePoll, on behalf of Smith Micro, from August 20 – September 2, 2020. 2,000 American parents of school-aged children (ages 5 – 18) comprised the survey panel.
OnePoll is a market research company and corporate member of both the American Association for Public Opinion Research (AAPOR) and the European Society for Opinion and Marketing Research (ESOMAR) – and adheres to the MRS code of conduct. For more information about OnePoll's research in the media, navigate to their portfolio here.