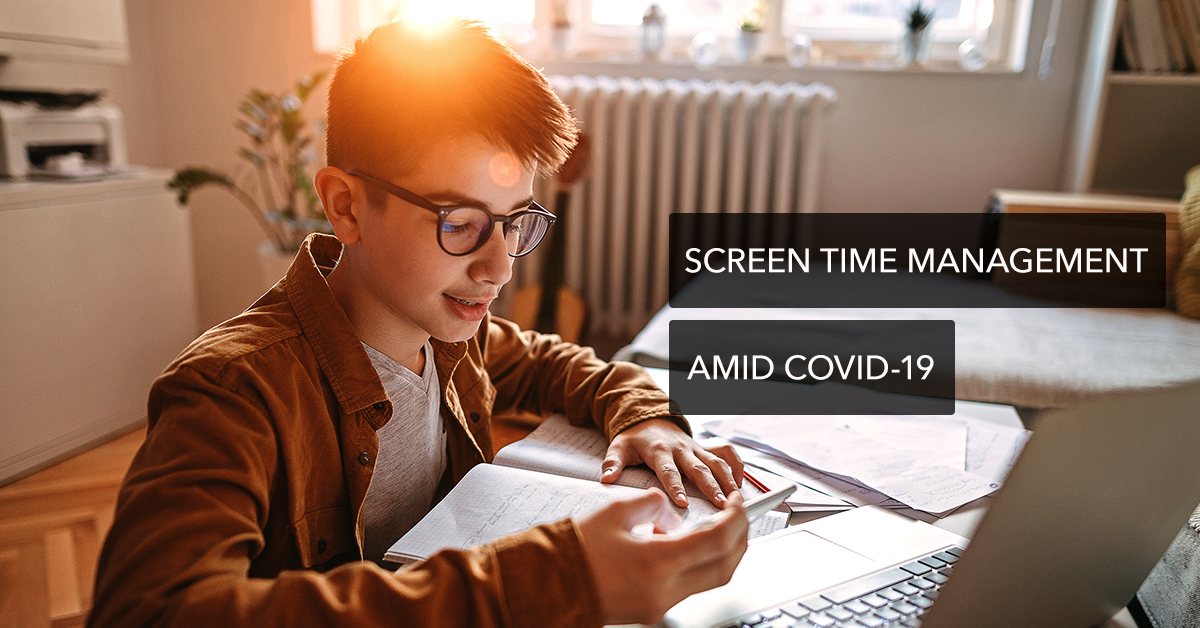 The statistics are staggering:
48% of children are currently spending more than six hours per day online. This represents a 500+% increase compared to only 8.29% before the crisis.
85% of parents are concerned with how much time their kids are spending online.
Over 50% of parents are worried that their children are or will become addicted to online activity due to the coronavirus pandemic.
This is a sample of the findings from an April 2020 survey by ParentsTogether. ParentsTogether is parent-led organization with over 2 million members nationwide.
Not All Screen Time is Created Equal
In the world of COVID-19, digital devices play a huge role in the daily lives of children – serving as a platform for education, virtual learning, entertainment, and social interaction. Now more than ever before, digital devices are the lens through which kids learn about and experience the world around them. In many cases, it's no longer practical for parents to simply confiscate their child's device or shut off the internet. Daily life amid the COVID-19 pandemic created the demand for a more nuanced approach to digital parenting.
This will become abundantly clear once school starts back up and kids will need to use connected devices to consume educational content, access assignments and interact with their teachers and classmates. But how can parents ensure that their kids are only using connected devices for school-related activities during school hours? Most parents – especially those working from home while juggling the additional commitments inherent to distance learning – don't have the time to constantly monitor the online activity of their children.
According to the previously mentioned ParentsTogether survey, "the most prominent platforms and apps used by kids whose parents completed the survey were largely non-educational: YouTube (78.21%), Netflix (49.64%), and TikTok (33.41%)." How can parents be sure that their kids aren't using Instagram or TikTok during a virtual class? Or, how can they stop their child from streaming videos on YouTube during homework time when internet connectivity is needed to complete an assignment?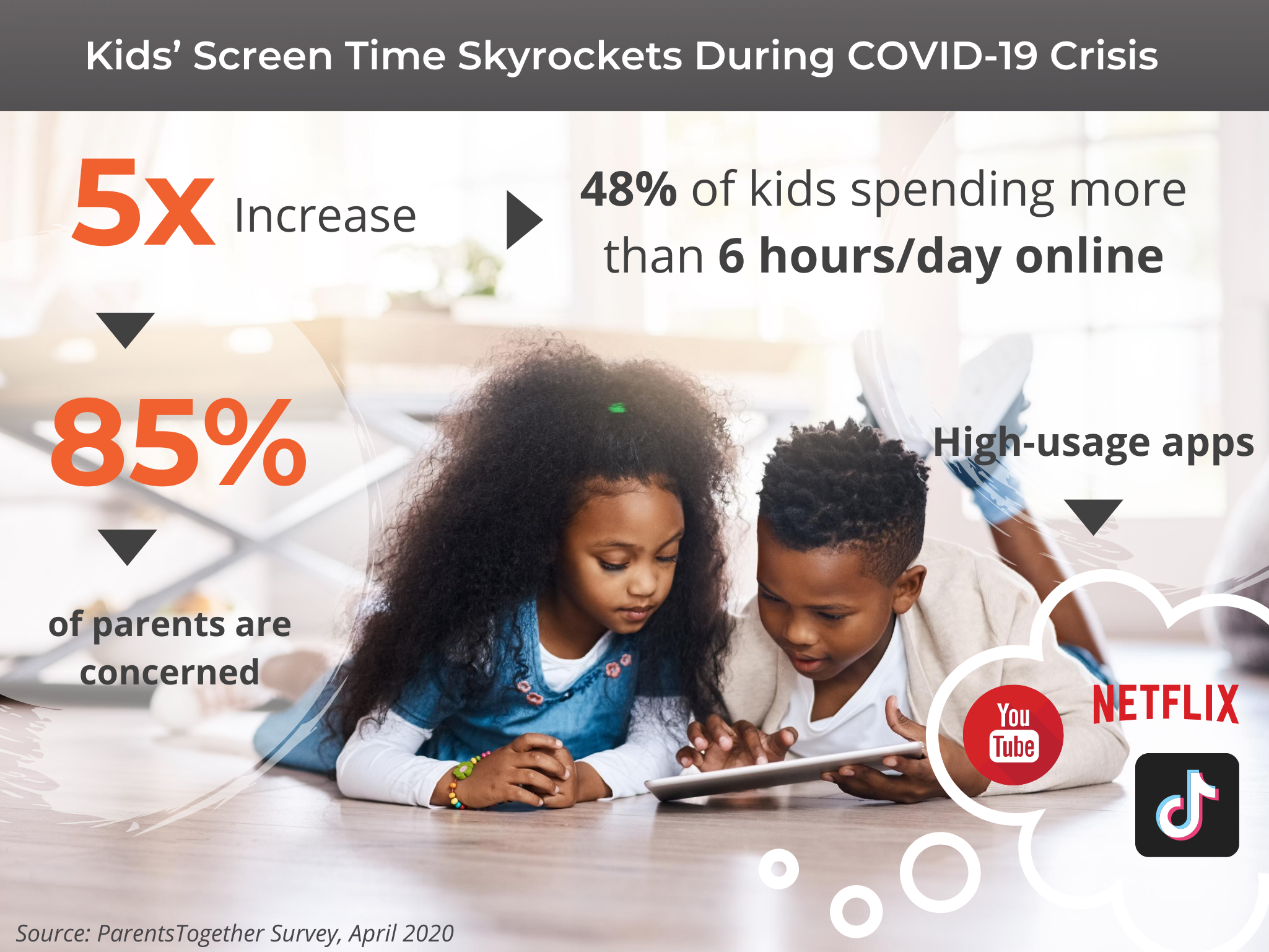 In many ways, the COVID-19 pandemic has transformed the screen time dilemma from quantitative to qualitative in nature. Before COVID-19, restricting digital device usage to X hours per day made sense. Now, when kids are using their PCs, smartphones and tablets for school work, time-based screen time limits aren't really relevant any longer. Parents need a screen time management tool that enables granular app- and age-based filters.
Another digital parenting feature that has gained relevance amid COVID-19 is centralized management within one app. App- and OS-native parental controls are better than nothing, however using them effectively is time-consuming and error-prone. Managing and monitoring parental controls will only increase in difficulty as kids add new connected devices and apps to their digital universe. Add multiple kids and a full-time job to the mix and this "solution" quickly devolves into a futile game of whack-a-mole.
Parents Need Help, and They Need It Now. You Can Provide It.
As the purveyors of internet access, wireless connectivity, and digital content, communication service providers (CSPs) are in pole position to capitalize on this increased demand. In the months since COVID-19 transformed our world, CSPs of all types have repeatedly demonstrated the essential nature (and value) of the services they provide in our digital-first society.
Until COVID-19 hit and daily screen time exploded, most parents were content to either a) take a hands-off approach to screen time management, or b) implement draconian methods such as confiscating devices or turning off the internet. Those that did leverage app-based solutions pre-COVID likely used freemium options or the previously mentioned app- or OS-based parental controls with their logic being "why pay for something that I can get for free?"
Now, the equation has changed and the need has escalated. With screen time at an all-time high and kids dependent on connected devices for school, parents are willing to pay for full-featured apps that streamline digital parenting and provide peace of mind through increased control. Supporting this logic is the fact that COVID-19 has permanently changed consumer behavior so that people are much more likely to experiment with new services that help during this time of crisis. This is especially true of digital services that make daily life easier and more manageable.
The Opportunity for CSPs
CSPs have offered pay-to-play digital parenting apps for a number of years, however adoption has always been limited by the number of free alternatives available and a lack of urgency on the part of parents. Because of COVID-19, the consumer relevance of premium digital parenting apps that enable centralized management and granular parental controls is higher than it's ever been.
CSPs are in the best position to capitalize on this trend and offer these tools to consumers for several reasons:
CSPs are trusted providers of connectivity and digital lifestyle services.
In the world of COVID-19, connectivity and associated services are considered essential by most.
Because of the cost savings they provide, adoption of wireless family plans is high and will continue to grow as the age at which kids get their first smartphone continues to decline.
The monthly cost of premium digital parenting apps can be bundled with an existing family plan subscription and marketed as a necessary safeguard for protecting the digital safety of young family members.
Several CSPs use Smith Micro's SafePath® Connected Lifestyle platform to capitalize on this sizable opportunity. As a white-label solution, SafePath is completely customizable to match the brand and feature demands of any CSP. With functionality such as age-based parental controls, app-based screen time management, and family location services, SafePath enables CSPs to meet the demands of consumers learning to live in our New Normal. Learn more >>