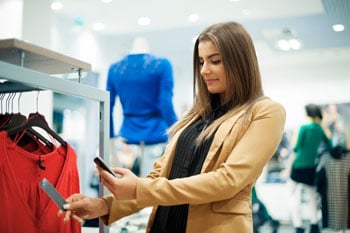 Engaging with mobile consumers and adding value to their "mobile-first" lifestyles is at the top of many companies' to-do list in 2016. This shouldn't really surprise anyone as most of these to-do lists looked pretty similar in 2015 as well. Our mobile devices are so ingrained in our everyday lives that brand equity can now be equated directly with effective mobile engagement.
Companies that do it well thrive in the mobile environment, unlocking new revenue sources enabled by hyper-personal mobile interactions. Companies that fail at mobile engagement or refrain from branded mobile initiatives, aren't just missing these new revenue opportunities, these enterprises are putting themselves at an incredible competitive disadvantage moving forward.
According to the 2016 Visual Networking Index published by Cisco, 36 percent of global mobile connections in 2015 were "smart" mobile devices, amounting to about 2.5 billion. By 2020, Cisco projects that smart devices will comprise more than two-thirds of total mobile connections, amounting to almost 8 billion. In the geographic regions with more "mature" mobile environments, the ubiquity of smart devices is much greater – 74% in 2015 and 95% by 2020 in North America.[1]
Long story short, mobile is not just a passing trend… it has transformed how retailers and brands must operate. To make the most of mobile, mobile engagement must be approached correctly – as a one-to-one personal relationship rather than a one-to-many channel-based approach. Lack of personalization and mobile relevance have severely limited the effectiveness of many mobile campaigns up until now.
Many of these campaigns put too much faith in macro-level demographic segmentation and/or simplistic location triggers, such as beacons. While both of these approaches provide a piece of mobile context, they are inadequate (even when combined) to enable relevant mobile engagement. Much more information regarding the real-time context of each consumer is needed to model mobile intent effectively in order to engage at the right time.
Combining various types of location data (GPS, beacon, Wi-Fi, magnetic positioning) with other information such as on-device app profile and usage, frequency of store visits, purchase history and in-store dwell-time provides a much more detailed and textured understanding of each mobile customer. With this insight, brands and retailers can engage each customer on the one-to-one level that mobile users expect. In addition, this rich understanding of mobile context enables:
Optimized staffing/store layout
Insight into store customer experience/wait times
Knowledge regarding which app publishers are most effective in reaching customers
Identification of customer points-of-interest to improve targeting of other marketing/branding initiatives
Enhancement of existing customer segmentation programs
Savvy planning of new store locations
Have any of these strategies been successful for your business? Or, have you implemented other technologies that weren't mentioned? We'd love to hear from you.
[1] Cisco Visual Networking Index: Global Mobile Data Traffic Forecast Update, 2015-2020 White Paper. Web. Accessed on 3 March 2016: http://www.cisco.com/c/en/us/solutions/collateral/service-provider/visual-networking-index-vni/mobile-white-paper-c11-520862.html#Trend_1_Continuing_Shift_to_Smarter